chengdi Electronic Technology
Professional flexible flat cable (FFC), flexible flat cable connector manufacturer
Hotline:
+86 769-82699323
+86 158 9988 6989
Certifications
Full implementation of ISO9001: 2005 international quality management system certification

product
Complete categories, sufficient supply, fast delivery

Flexible Flat Cable Four characteristics
All products use environmentally friendly raw materials, in line with the ROHS standard set by the EU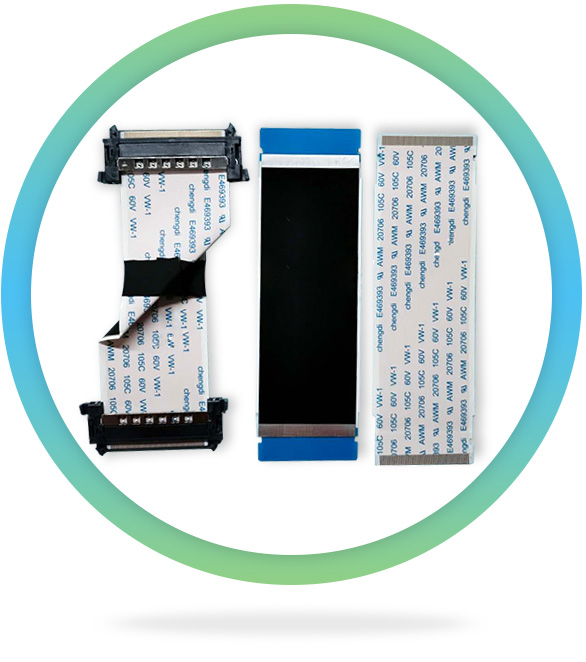 01

Soft and flexible, flexible application, can be folded at any angle. Apply to product parts that need to move back and forth. Convenient wiring, making the product circuit layout simple and beautiful.

02

FFC flexible cable products are shielded to easily solve the problem of electromagnetic interference (EMI). Make the signal transmission of electronic products more stable. Avoid quality problems caused by electromagnetic interference.

03

Products are nickel plated, tin plated or gold plated. Make the product adapt to more severe environment. Avoid abnormal quality caused by oxidation and increase the service life of electronic products.

04

FFC connectors are high in density and small in size, which saves more space. To meet the development trend of thin and flat electronic products, nylon PA46 insulation material has high temperature resistance and acid resistance. Ensure that the product quality does not appear abnormal during reflow soldering.

Focus on production only for better quality
10 years of experience, we only want to satisfy you

Quality Assurance
All of our products use environmentally friendly raw materials, which comply with the ROHS standards set by the European Union.


Guarantee range
All products ordered at the company can enjoy after-sales service.
 

After sales response
When poor quality is found, there are professional engineering personnel to track the service, deal with the problem within one day and implement improvement analysis report until the customer is satisfied

After-sale warranty
Since the customer signs for the product, if there is any failure in the product, after the test by the after-sales center, the product of the same model and specification can be replaced for free.
Contact : Mr. Huang / +86 15899886989
QQ:1299069848

Contact : Miss Wu / +86 13798245891
QQ:1152120200

Contact : Miss Wu / +86 13798245891
QQ:1152120200

Contact : Miss Huang / +86 15820406649
QQ:2747052923

Chengdi Electronic
Years of professional production of flexible flat cable
Guangdong Chengdi Electronic Technology Co., Ltd. Copyright 2020
Admin
Keywords: FFC cable manufacturer_FFC flexible flat cable_FFC flexible flexible cable
Contact us
Address:7th Floor, Building 3, Xinghe Industrial Park, Zhongkai